According to the website of the Macao SAR government, a series of "innovative Chinese medicine series products" and "zebrafish screening system based on microfluidic technology" independently researched and developed by the National Key Laboratory of Traditional Chinese Medicine Quality Research of the University of Macau were unveiled at the 47th Geneva International Invention. The exhibition, which has stood out from nearly 1,000 innovative inventions around the world, won the "Invention Gold Award". Among them, the Australian New Innovative Chinese Medicine Series has become the first "Modern Chinese Medicine" innovative product in Macau to receive this honor.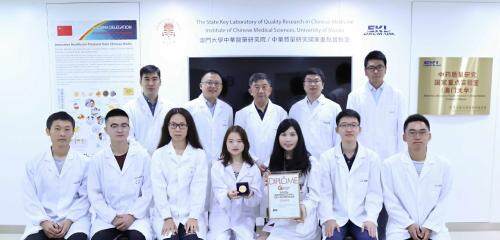 R&D team of "Innovative Chinese Medicine Series Products" of the University of Macau. Image source: Macau SAR government website
The Geneva International Invention Exhibition is the world's longest and largest global creative event, organized by the International Intellectual Property Organization and the Swiss Federal Government. All the participating projects are judged by more than 80 famous international experts from all over the world from different angles. The two independent research and development projects of the University of Macau were awarded gold medals respectively, which is a powerful proof that the world recognizes the value of their inventions.
The "Innovative Chinese Medicine Series" project of the University of Macau takes the multi-component, multi-target and multi-channel effects of traditional Chinese medicine as the design idea, and takes the "effective combination of overall delivery to maximize the traditional effect" as an innovative concept, traced from the quality of medicinal materials, international Three key links, such as quality specifications and innovative dosage form processes, are internationally innovative Chinese medicine series products for system research and development.
In recent years, the University of Macau has made significant progress in the development of innovative Chinese medicine product series. The products have been declared and obtained a number of invention patents. The 6 products of the two series of Chinese medicine solid-liquid capsules and new granules exhibited by the jury won high praise from the jury of the jury and unanimous recognition and wide attention of the participants. This is also the national key laboratory of quality research of Chinese medicine in the academic field. On the basis of innovation, a major breakthrough in technological transformation has become a model for the transformation of Chinese medicine innovation and technology.
Another award-winning project, "The Zebrafish Screening System Based on Microfluidic Technology," combines microfluidics with zebrafish to provide a new high-throughput screening technology for research.
The entire self-developed high-throughput screening instrument includes microfluidic chips, syringe pumps and automation software, allowing simultaneous screening of a larger number of organisms, faster embryo loading, elimination of anesthesia requirements, and clear, large-scale automation Image acquisition has improved cost-effectiveness and shortened the research and development cycle. It can be applied to many fields such as "modern Chinese medicine" innovative product research and development, Chinese medicine quality control, food quality monitoring and environmental monitoring.