According to a research in the Journal of the American College of Cardiology, smoking increases the risk of heart disease in men and women, but women are significantly more likely to smoke than men, especially women under the age of 50. Increased by more than 13 times.
The study analyzed data from 3343 patients with ST-segment elevation myocardial infarction (STEMI) in three age groups: 18-49 years, 50-64 years, and >65 years.
The current proportion of smokers is similar between genders, with 46.8% of female patients and 47.6% of male patients.
The researchers found that the current rate of peak myocardial infarction in women was 70-79 years old (235/100,000 person-years) and men were in the 50-59 age group (425/100,000 person-years).
Smoking causes a significantly higher incidence of myocardial infarction in women than in men. The greatest difference in relative risk between male and female smokers is in the 50-64 age group.
The 18-49 age group, the youngest group, whether male or female, has the greatest risk of smoking.
However, female smokers in this age group were more than 13 times more likely to have a heart attack than non-smokers in the same age group, and the risk of male smokers increased 8.6 times.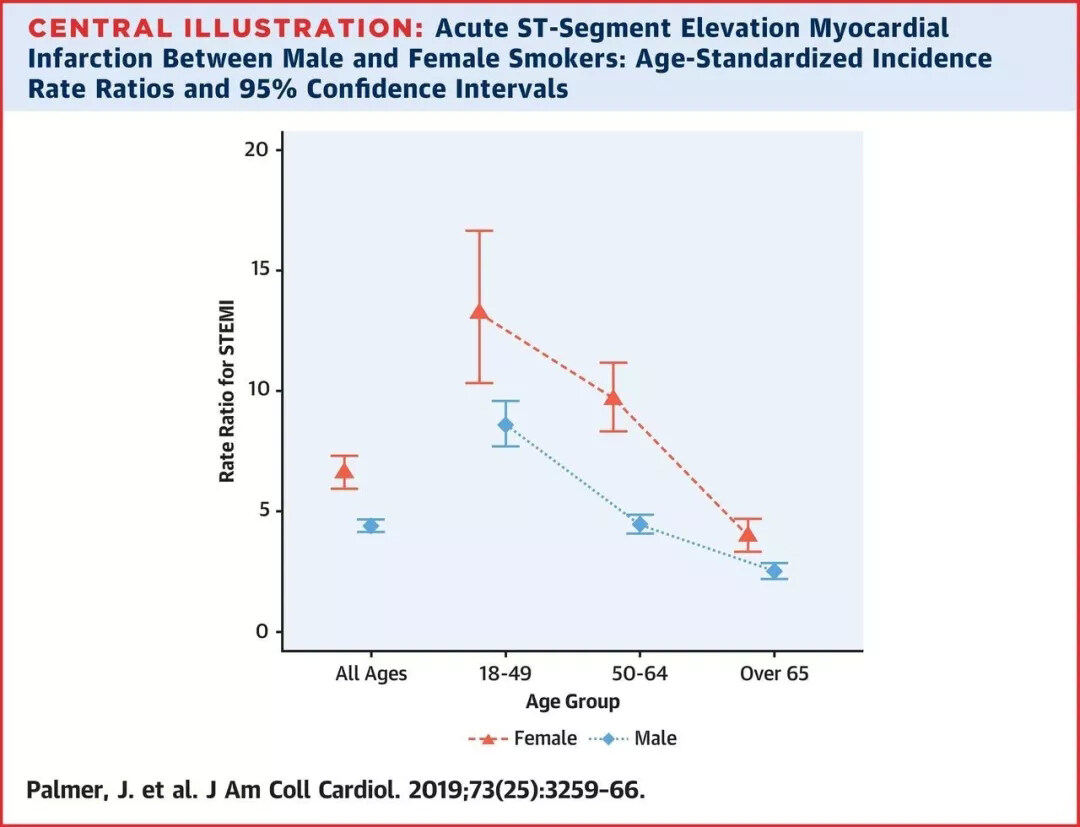 The study also found that despite the increased risk, smokers can reduce their risk to the level of never-smokers within one month of quitting.
The authors of the study analyzed several possible reasons why smoking may cause a greater risk of myocardial infarction in female smokers:
First, smoking may reduce serum estrogen levels that are protective against atherosclerosis.
Second, the male coronary artery has a larger inner diameter than females, and chronic inflammation caused by smoking may result in a severe degree of arterial stenosis in women.
Third, some vascular diseases are more common in women with myocardial infarction, including vasospasm, vasculitis, and spontaneous coronary dissection.